Details
Product Description:
1.Die head is layer type spiral mandrel, continuous 360, rotation.
2.Screen pack changer Design is rational convenience, reliable, safe in operation.
3.Various functional parts may be installed to the lies, such as length counting device, vertical cutting device, cooling water row pipe, film spreading roller, scrap collecting device.
Use:
The lines are designed developed by our corporation according to market need, they reach the advanced levels in the 90s,come up with analogous lines in Home. It is optimum Designed on the trends of preference of analogous lines in foreign and Home. The lines can be blown continuous 1200/1300/1500mm in fold width 0.08mm in the thickness packaging films, from LDPE, HDPE, LLDPE, MLLPE, Baby horizontal extrusion up blown. The film has good in sudation, for instance holding temperature, anti-humid, ant-breeze, anti-rain, anti-roost, insulation oxygen, oil resistive, and so used for light and heavy-duty packaging, for example fresh fruits, meat-feeding, salt vegetables, fresh milk, drink.
Overall Dimensions:
| | | |
| --- | --- | --- |
| Model | SJ-45x3/FM1000 | SJ-50x3/FM1200 |
| 45mm | 55mm | 55mm |
| L/D30:1 | L/D30:1 | L/D30:1 |
| 15-150r/min | 15-150r/min | 15-150r/min |
| 11Kwx3 | 15Kwx3 | 18.5Kwx3 |
| ¢130¢180 | ¢130¢250 | ¢130¢300 |
| 0.01-0.10mm | 0.01-0.10mm | 0.01-0.10mm |
| 1000mm | 1200mm | 1500mm |
| 76Kw | 88Kw | 102Kw |
| 4200kg | 5300kg | 6200kg |
| 6600x4100x5000mm | 6800x4300x6000mm | 7000x4800x6800mm |
Main Technical Variables:
Screw Diameter
Screw Ratio
Screw Speed
Power of Main Motor
Range of Die
die-sided Thickness of Film
Max. Folding Width of Film
Electric Total Capacity
Weight of Machine
Finished Product:

Our Services:
Installation Services:
Installation Services are available with all new machine purchases. We will provide the technical know-how for your operation smooth transition and support for installing, debugging, operation of the machine, it will indicate you how to use this machine well.
After Sales Service:
We offer the Preventative Maintenance and After Sales Service. For we strongly feels that importance of supporting our customers and the product solutions we provide. Consequently we offer comprehensive maintenance options to prevent equipment issues before they become problems. Also we offer one year guarantee period.
Machine Parts Details: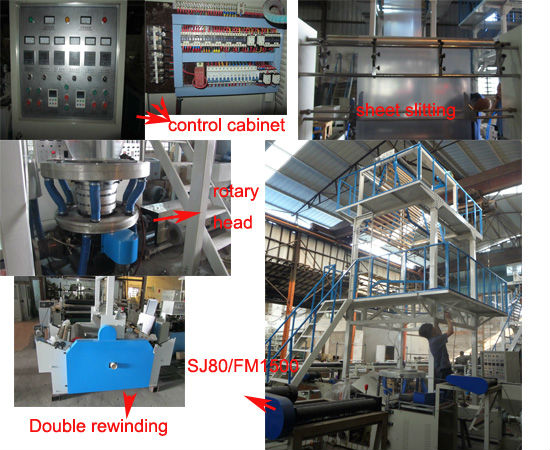 Hot Tags: three to seven film blowing machine, China, manufacturers, suppliers, factory, cheap
Feedback