Details
YT-6600/6800/61000
Six-color flexible printing machine
Product Description
Flexible Printing Machine (6 color) is suitable for printing materialslike PE,PP plastic bag,cellophane and roll paper,etc.It is a kind of ideal printing equipment for producing paper packing bag for fod, supermarket carry bag, vest bag and clothes bag,etc.
Product Features:
1.Easy operation,flexible starting,accurate colour regicter.
2.The meter counter can set printing quantity according to the requirements Stop the machine automatically at the set quantity or when the material is cut off.
3.Lift and lower theprinting plate cylinder manually,it will automatically stir the printing ink afterlifting.
4. The printing ink is spread by the knurled cylinder with ecen inkcolour.
5.Reliable drying system coordinated with high-speed rtation,it will automatically
break the circuit when the machine stops.
6.Adjustable register device.
7.The imported fuequency control of motor speed adapts to different printing speeds,
8.There are Inching/Stopping buttons on the plate roller base and material rolling rack soas to make it easy operate the machine whenthe plate is installed.
Main Technical Variables:
| | | | |
| --- | --- | --- | --- |
| Model of Machine | YT-6600 | YT-6800 | YT-61000 |
| Max. Width of Printing material | 600mm | 800mm | 1000mm |
| Max. Printing Width | 560mm | 760mm | 960mm |
| Length Range of Printed Product | 191-914mm | 191-914mm | 191-914mm |
| Max. Diameter of Roll Material | 450mm | 450mm | 450mm |
| Printing Speed | 5~50m/min | 5~50m/min | 5~50m/min |
| Thickness of plate(Including Two-sided Glue Paper) | 2.38mm | 2.38mm | 2.38mm |
| Total Power | 13kw | 15kw | 18kw |
| Weight of machine | 3500kg | 4200kg | 5000kg |
| Overall Dimensions(L*W*H) | 3900mmX1660mmX2950mm | 3900mmX1860mmX2950mm | 3900mmX2060mmX2950mm |
Product Details: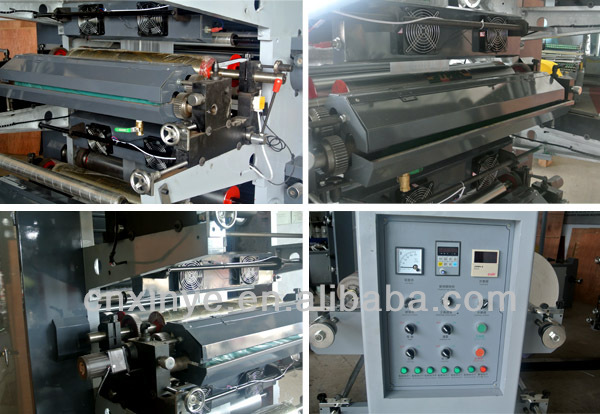 Samples:
Hot Tags: six color flexible film printing machine, China, manufacturers, suppliers, factory, cheap
Feedback